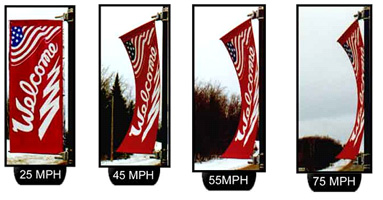 Bay Media's Wind Pivoting lamp post flags system is the most advanced in the world. The securing brackets allow the arms to rotate with the wind which protects the banners from twisting and tearing, while the loading in the column is reduced by 87%. Our 2 metre banners produce less wind-loading effect than a 0.3 m static sign which means that they can be retro-fitted onto any standard lamppost.
The Wind Pivoting Lamppost Banner Flags are secured top and bottom by two spring-tensioned aluminium brackets that rotate and flex vertically and horizontally according to the wind speed and direction – a patented mechanism that was inspired by the way the human shoulder rotates. At speeds of up to 25 mph the banners stays rigid with micro vibrations absorbed by the fibreglass arm; above this speed the bracket and arms tilt along the two axes in the direction of the wind, minimising the surface area and decreasing the wind load. Being spring-loaded, when the wind dies down, the arms return to its proper position, keeping the banner taut and looking pristine. Independent wind tunnel tests have shown that this system reduces the wind-load on the lamppost by some 87% (versus the leading static systems 23%)
The lamp post flags
High profile events and campaigns demand high quality promotion. Bay Medias banner flags not only look great when they are put up but they are guaranteed to stay looking great all the way through the campaign.
To ensure the highest possible standards of quality and durability our banners are made from a multi-layered composite that we developed specially for its anti-stretch and anti-tear properties. Having printed the image on both surfaces, the banner is treated with UV filter coatings to prevent sun damage and fading. Triple stitching, as used for trimming yacht sails completes the production process. Bay Medias lamppost banner flags are the most robust banners to be found anywhere within the industry.
Thanks to the spring-tensioned arms the banner is kept taut no matter how bad the weather is or how long it is in place.
Installation:
Bay Media's wind pivoting banner flags are securely fixed to lamp posts with the lower are at least 3 metres above street level.
No pavement hazard – street activity goes unimpeded
Light levels are not compromised
No light pollution as with backlit units that can interfere with CCTV and residences above shops
Size and height designed not to interfere with CCTV cameras
Consistency of street furniture is maintained. I.e.no need to replace existing lampposts.
Vandalism is difficult and rare
Banners make a positive contribution to the streetscape.